God space
The name "God space" is simply a term that helps us to describe the awareness or knowledge that people have of God when he reveals himself to them.
Hundreds of people have discovered and reported that by Refocussing on what they know about God, The Holy spirit, and Jesus they have "places" or "spaces" of remembrance unique to them, that they can revisit or recall (John 14:26).
Scripture not only tells us that God will reveal himself to us (Jeremiah 33:3), but it also says he will quench our thirst (needs) in life. This applies also to those who do not yet know God and are seeking his reality.
John 7:37 – 38 "If anyone is thirsty, let him come to me and drink. Whoever believes in me, as the Scripture has said, streams of living water will flow from within him." This provides a most extraordinary way to lead people to Jesus -an evangelism tool.
As people learn to 'go to their God Spaces' they not only encounter Him, but also experience remarkable changes because they have been provided with a way that is reliable, predictable and repeatable to encounter God's Empowering Presence.
By using God Spaces, people are enabled to locate (find), access (experience) and then develop (describe), using one's own language, metaphors and symbols what God wants to do for their need, problem, or pain.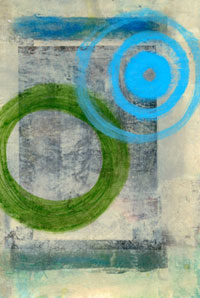 Research on Refocussing/God Spaces at post-graduate level shows that as people are empowered to shift to the empowering presence of God, via their God Spaces, that then, their unmet needs would be either healed, resourced or resolved.
For example, Sarah (and countless others like her) described that, " After locating God, it was as if God is inside me".
She recalled that it was as if she could "see Jesus pouring oil onto the old wound." She described a soothing heat touching the wounded area, which she claimed had held both physical and emotional pain.
She said as a result of the God encounter, she felt such warmth and comfort, not only physically but emotionally – healing a pain she had carried since a little girl.
Several weeks later, she was totally free from all symptoms and her doctor decided no further medication was required.